12 Jul

Path Resorts Takes Home Gold and Silver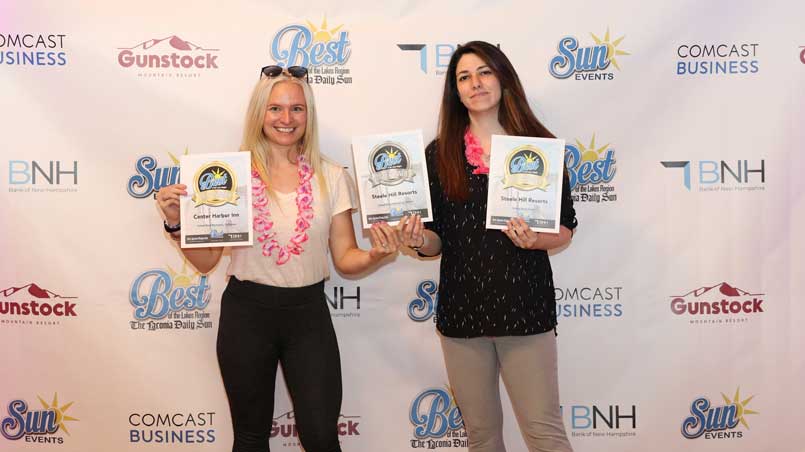 It's a season of joy and celebration at Path Resorts! We are thrilled to announce that we've been honored with prestigious awards in three categories in the Best of the Lakes Region contest, organized by the Laconia Daily Sun. This is a testament to the excellence of our resorts, the commitment of our team, and the unwavering support of our beloved guests.
Steele Hill Resorts has won the Gold in the Best Hotel category. Our hotel's unique blend of location and comfort, nestled in the heart of New Hampshire's breathtaking landscape, provides guests with an unparalleled getaway experience. Steele Hill Resorts also brought home Silver in the Best Wedding Venue category. Our resort's astonishing setting, coupled with our dedicated events team's commitment to creating dream weddings, have made us a favorite amongst couples planning their special day.
Meanwhile, our charming Center Harbor Inn property has been crowned the Gold winner for Best Romantic Getaway. The tranquil ambiance, intimate rooms, and stunning lake views offer the perfect backdrop for romance, helping couples create beautiful memories together.
We are incredibly grateful for these recognitions. We know they are not just awards, but a token of trust and love from our guests. Each vote we received is a testament to the unique experiences and warm hospitality we strive to offer. We would like to extend our deepest gratitude to everyone who voted for us and those who continue to choose Path Resorts for their vacations. To our exceptional team, thank you for your dedication and hard work! It's your unwavering commitment to our guests and your passion for what you do that have led to these wins. Each one of you plays an integral role in bringing our vision to life and making our resorts stand out in the region.
At Path Resorts, we believe in creating spaces where guests feel at home, yet enjoy the experience and beauty of a much needed getaway. Winning in the Best of the Lakes Region contest is a powerful reminder of why we do what we do. We are more committed than ever to uphold this standard of excellence and continuing to provide unforgettable experiences. Once again, thank you all for your support. Here's to many more years of serving you, our cherished guests!