09 Sep

Path Resorts Wins Best of the Lakes Region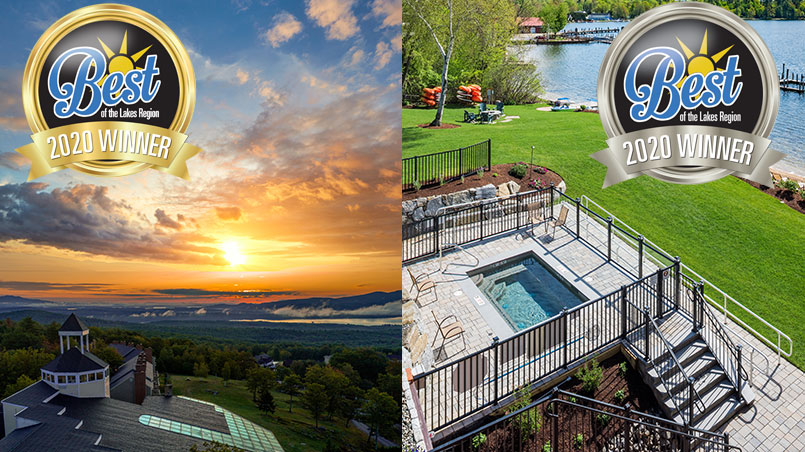 For the past two years, The Laconia Daily Sun has hosted an annual contest presented by the Bank of New Hampshire, titled "Best of the Lakes Region". The program is considered to be the most comprehensive guide to the Lakes Region of New Hampshire, highlighting local businesses within nine separate categories. This year, Path Resorts was thrilled to receive two nominations and take home awards for each!
Throughout the past few decades, Steele Hill Resort has been a premier lodging choice for vacationers visiting central New Hampshire. Providing some of the best views in the region as well as top notch amenities and accommodations, Steele Hill is a landmark lodging destination in small town of Sanbornton, New Hampshire. This year, our flagship property has been named the Best Hotel in the Lakes Region, having the honor of taking home the gold medal.
The Center Harbor Inn, nestled along the pristine waters of Lake Winnipesaukee in the quaint town of Center Harbor, New Hampshire has quickly become a favorite getaway spot due to its central location, boutique amenities and luxurious and modern accommodations. Offering an outdoor, four-season hot tub overlooking the beautiful lake, private balconies in guests' quarters and located within walking distance of some of Center Harbor's finest dining, the Inn is an ideal spot to get away with the love of your life. The Center Harbor Inn received the silver medal for the Best Romantic Getaway in the 2020 Best of the Lakes Region awards.
We are incredibly thankful for all of the votes casted by our guests, owners and community as well as the dedication of our devoted Path Resort's employees. We work very hard to provide our guests the vacation experience they deserve at each of our three locations throughout the Lakes Region and these recognitions are certainly held with high regards.