09 Feb

Guide to Weirs Beach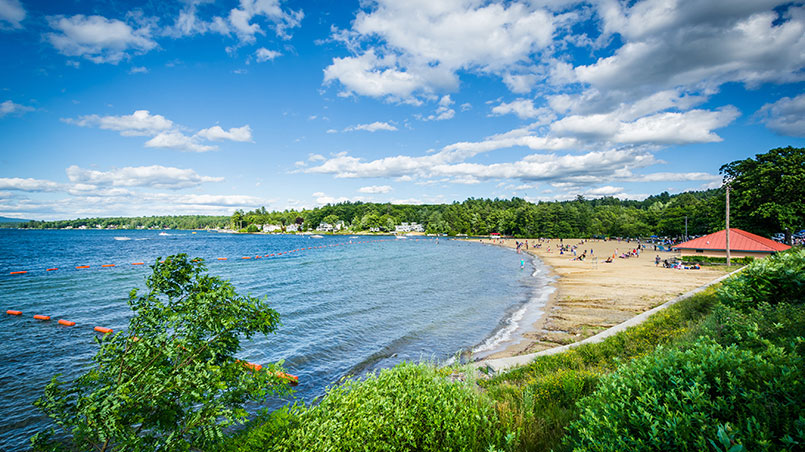 If you are new to staying with us at the Summit Resort, and are unfamiliar with the area, don't fret because we are here to let you in on some of our favorite spots. Weirs Beach has everything from restaurants, arcades, and the boardwalk to live music. There is always something to do and explore. Check out some of these great places below and let us know what your favorites are!
Weirs Beach: Weirs Beach is located on the shores of Lake Winnipesaukee. Spend the day at the beach with your family, swimming, building sand castles or enjoying a book. The beach does not offer charcoal grills but you are permitted to bring your own. Picnic tables are available throughout the lawn area of the beach. One of the most unique features of Weirs beach is the channel into Paugus Bay off to the side where you can watch all types of boats come in and out from under the bridge.
Weirs Beach Boardwalk: The Weirs Beach Pier at the end of the boardwalk is currently undergoing a major revitalization project, check out our last blog (link) for more information. It offers many dining options, benches, souvenir stores and more.
Arcades and Games: There are two main arcades at Weirs Beach. Located along the boardwalk is Half Moon Amusement Arcades there are actually two gaming areas within this location. There is the infamous Penny arcade which includes over 120 games from pinball to whack a mole, and the Family Fun Center arcade that offers classics from Pac Man to Galaga. The other big arcade in the area, Funspot, is just down the road from the main Weirs Beach area. Billed as "the biggest arcade in the world" it offers two floors of all the classics, bowling, an indoor 18-hole mini golf course and bingo five nights a week. There is also a Tavern where you can grab a drink and some small bites including pizza, and one of our personal favorites the mac n cheese bites.
Ice Cream: There is nothing better than ice cream in the summer and you can find it just about anywhere, but our two favorite spots in the area are Jordan's Ice Creamery and Kellerhaus. Jordan's is a family run ice cream shop operating for the past 23 years. They home make all of their over 150 flavors of ice creams, they also have frozen yogurt and sugar free options as well as a variety of other novelties including homemade waffle cones. Kellerhaus is an ice cream buffet style joint. You pick your flavor and then hand pick your favorite toppings. They also have a gift shop where they are famous for delicious chocolates, candy, gift basket, jellies & jams and NH Maple Products.
Options for the Active Traveler: If being active is your thing and you are looking for the next big thrill, check out Monkey Trunks. At Monkey Trunks, you can do either an adventure ropes course, or zipline tour, or both! There are height and weight requirements so check out their website for more details. If you have a need for speed, then the Daytona Funpark is for you. They offer go-karts, bumper cars, and batting cages.
Scenic Adventures: Hop aboard the M/S Mt Washington for a cruise around Lake Winnipesaukee. They offer a variety of different types of cruises including a scenic, sunset dinner dance, and Sunday champagne brunch style cruises. Check out their website for more details and where to get tickets. If being on the water isn't your thing you can check out the Winnipesaukee Scenic Railroad. Always within the views of the lake you will travel from Meredith to Lakeport. If you really want to take in the full experience ask about caboose rides, it's one of the best kept secrets in Weirs Beach. While on the website check out the Rail & Sail package where you can ride the scenic railroad, then hop on the M/S Mt Washington cruise ship.
Night Life: Weirs Beach is always rocking at night, with plenty of live entertainment and restaurant options you won't be bored. Our favorites include Paradise Beach Club, Tower Hill Tavern and the Patio Garden.
The Summit Resort is the perfect location in the heart of the NH Lakes Region. With so many attractions and activities within minutes of the resort, there is something for everyone. We hope you enjoyed this list and find it to be helpful when planning your vacation. If there are any attractions not on the list that you think would make a great addition we would love to hear from you!