19 Jan

Hiking Trails in the New Hampshire Lakes Region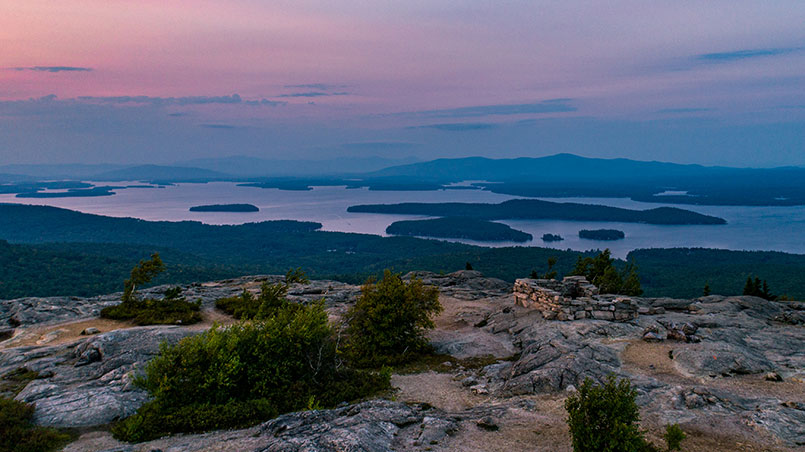 With the fall colors spreading across the landscape and the cooler air setting in, this is the perfect time of year to enjoy a hike in the Lakes Region. Our hotels and resorts are centrally located and offer easy access to some of the best hiking trails in the area. Check out our favorites below, and let us know which ones you like best!
Mt Major:
Located just 14 miles from the resort in Alton Bay, this popular hiking destination offers beautiful views overlooking Lake Winnipesaukee. At 1,785 feet in elevation, this family friendly hike includes three main trail options. The Mt. Major Trail is approximately 1.5 miles to the top and is marked with blue blazes, the Boulder Loop Trail is 1.6 miles from the summit to the trail head and is marked with orange blazes. For something a bit longer, you can try out the Mt. Major and Brook Trail which is 2.4 miles, you will follow the blue blazes and then take the yellow blazes. Whether you are a beginner, a kid, advanced, or an adult this hike can be done by anyone. With the arrival of peak foliage season, the views from the summit are sure to be beautiful.
Red Hill:
This moderate hike located in Center Harbor, NH is a 3.5-mile loop trail to the summit and offers beautiful panoramic views of Lake Winnipesaukee and Squam Lake. With more than six different trail options, you can find something to fit your fitness level at Red Hill. The summit includes the scenic fire tower lookout and wardens cabin. If you are brave enough climb the tower (weather permitting), they may even let you in to show you the 360-vistas of the surrounding area. Red Hill has a long history that dates back to a time when the Native Americans would hunt on the slopes; to read more on the history check it out here. On your way out of town be sure to check out our new sister resort, the Center Harbor Inn. Visit the beautiful waterfront and stop by the front desk to find out more information on the hotel.
Gunstock:
You may be familiar with Gunstock as the ski mountain, but it's much more than just a place to go get your winter skiing in. Gunstock Mountain has things going on all year round. With zipline tours, an aerial treetop adventure, and hiking trails you can spend a full day of fun here all year long. There are six different trails you can embark on, so try one or make it a goal to try all six. Trail distances range from .85 miles up to 3.6 miles so whether you are just a beginner or an avid hiker you can find something for everyone here. Aside from the hiking trails, Gunstock also offers a ¼ mile handicap accessible boardwalk for those that can't make it up the hiking trails but still want the opportunity to get out and enjoy nature. Be sure to check out their website here for other fun things they offer year-round.
Belknap Mountain Range:
This range of mountains, the subject of the magnificent views at our resort, Steele Hill, offers one of the best kept hiking secrets in the Lakes Region. Comprised of three primary mountains in Gilford, New Hampshire: Piper, Belknap and the backside of Gunstock, the Belknaps offer beautiful views of Lake Winnipesaukee and Lake Winnisquam. The Belknap Range includes a variety of Moderate to Difficult hikes so if you are up for the challenge this hiking destination is just for you. Shoot up piper Mountain, for a short but rewarding hike with a treeless, granite peak and plenty of options to take in wild flowers or foliage depending on season. Other options include the more lengthy loop up Piper over the ridge to the top of Belknap Mountain where you can explore the fire tower and finally down the backside of Gunstock back to the parking lot.