20 Nov

Path Resorts' Cereal Drive With Granite United Way
Every year, employees from Path Resorts come together to take part in Granite United Way's Day of Caring, a celebration of volunteers giving a day to help non-profit agencies that could use a hand. Due to the current global pandemic, the Granite United Way decided to create a campaign that still included community involvement by helping locals in need, but in a safe and responsible manner abiding by current state guidelines. Granite United Way developed the Smart Start Cereal Drive to aid with supporting local children and families during this difficult and uncertain school year. Donations for the cereal drive were collected between the dates of September 16th and October 16th and acceptable contributions included nonperishable breakfast food items such as cereal, granola bars, pancake mix, oatmeal, Pop-Tarts and fruit cups.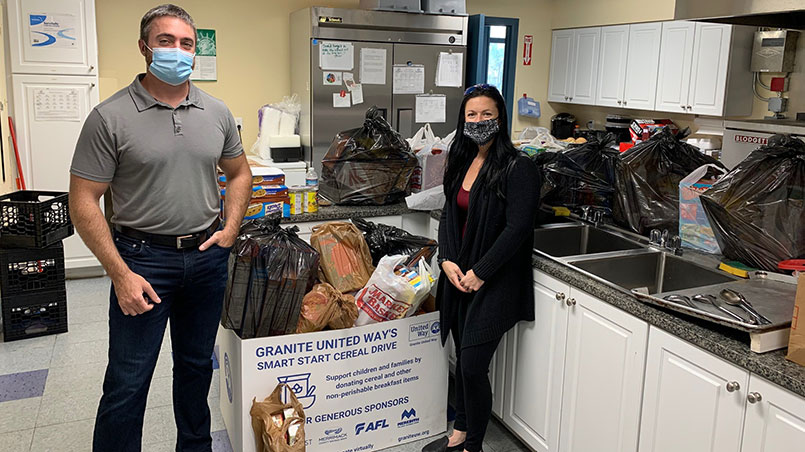 Path Resorts provided large donation boxes throughout all three properties to offer a safe and remote option of helping our community members in need, particularly those facing food insecurities during these difficult times. Path employees were encouraged to bring nonperishable breakfast items to donate and place them in the private drop off areas while the company promised to match box-for-box. At the end of the campaign, Path Resort's employees collected 156 boxes with a company match of an additional 156 items for a combined donation of 312 cereal items! The donations were delivered to the local Laconia Boys and Girls Club where they will distribute the items to help children start their day off with the proper fuel they need to grow and learn. The campaign was so successful within the company that we decided to continue the collection through the entire month of October, collecting an additional 157 cereal items that have been donated to The Cereal Heroes, a group of middle school students who joined together to help our local community. Many Path Resorts team members grew up in the Lakes Region area and are dedicated to helping our local community thrive. We are so proud to have such an amazing group of caring and devoted individuals within our company and our community.