02 Mar

5 Reasons to Stay in the New Hampshire Lakes Region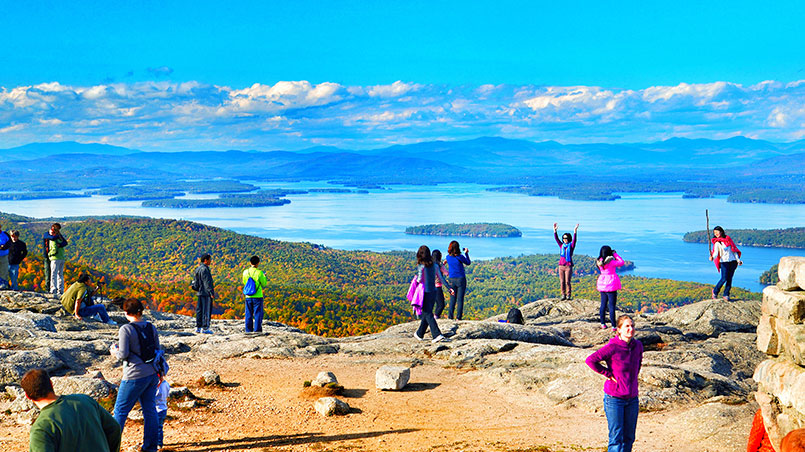 1. Hiking:
With warm weather approaching it's one of the most popular times of the year for hiking! The state hosts a total of forty 4000-footers and part of the Appalachian mountain trail making New Hampshire a great place for those looking to go hiking. New Hampshire's Lakes Region showcases a range of moderate difficulty hiking trails with spectacular views overlooking Lake Winnipesaukee, Lake Winnisquam and Squam Lake. Mount Major, a particularly popular trail system, offers breathtaking views across magnificent Lake Winnipesaukee. For more information on hiking and other mountains in the Lakes Region check out our blog, Hiking Trails in the New Hampshire Lakes Region.
2. The Lake:
A series of pristine lakes, each with their own character and history, make the Lakes Region a mecca for tourism in New Hampshire. The crown jewel is beautiful, Lake Winnipesaukee, the biggest and most popular lake in the state. Winnipesaukee is the perfect destination for a vacation away from the hustle and bustle of big city areas like Boston or New York. With endless opportunities to enjoy the water there is something for everyone, whether you have a boat, prefer the beach, want to explore the historic attractions in the Weirs area, enjoy sampling delicious seafood along the water, or like throwing in a fishing line to catch the big one, there is nothing like spending time on the shores of Lake Winnipesaukee. If being on the lake during your stay is important to you, check out our hotel the Center Harbor Inn.
3. Shopping:
New Hampshire has no sales tax, so take advantage of all of the great, tax-free shopping we have to offer here in the Lakes Region. One of the more popular places to shop is the Tilton Tanger Outlets located in Tilton, just down the road from Laconia. The Tilton Tanger Outlets are home to big brand stores including Banana Republic, Coach, and Nike to name a few. It's a great spot for back to school shopping or Black Friday. For more information on the outlets, check out our blog on Tilton Tanger Outlet Lodging. The Lakes Region is also home to many local antique and gift shops, so stop in and pick yourself up a souvenir to remember your getaway to the Lakes Region.
4. Dining:
New Hampshire's Lakes Region offers variety of dining options. We can't name all of our favorite spots in one post but we can tell you that for visitors looking for a real taste of New England our restaurants have you covered. Some of our favorites places offer delicious eats such as homemade ice cream, clam chowder, and lobster mac n cheese. Whether you want casual beach fare, a romantic sit down restaurant or a tiki bar to enjoy a drink with scenic views you can find it here. If you are staying in the Laconia area check out our blog on Restaurants in Laconia, NH.
5. Skiing:
The Lakes Region is centrally located in New Hampshire. Gunstock Mountain, just a short drive from anywhere in the area, offers a variety of ski trails for beginners to more advanced riders. The famous White Mountains are less than an hour away and include popular ski resorts like Loon Mountain and Waterville Valley. All of our resorts offer great ski and stay packages as well as discounted ski tickets. Be sure to check out the packages page during Winter months for more information. For more detailes check out our blog post on Ski Mountains in NH.