26 Mar

Summit Resort Kids Drink Specials

The Summit Resort has enjoyable amenities and offerings throughout all four seasons including our indoor and outdoor pools, an over-sized Roman Spa hot tub, direct access to nearby hiking trail networks, an onsite market and of course, our convenient poolside bar located in the amenities building. Our bar facility is fully stocked and we serve a variety of beverages ranging from domestic beers to delicious mixed drinks and everything in between. However, our most requested drinks are specials made sans alcohol.

Our newly introduced children's drinks have become increasingly popular over the last few months and have been enjoyed by guests of all ages. The mocktails are not only incredibly delicious, but also aesthetically pleasing. Poured into a fishbowl and dressed up with decorations like crazy straws, tropical drink umbrellas and candy garnishes, they are just as fun to look at as they are to drink!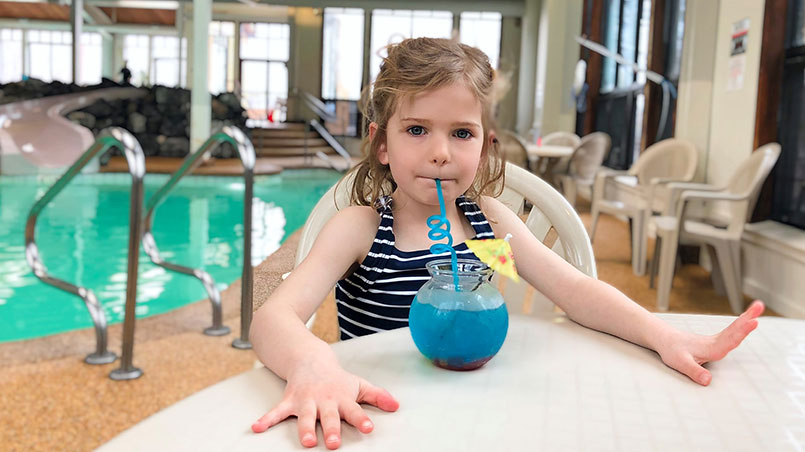 There is no better way to enjoy the warmth and tropical feel of our pool area than by relaxing and sipping on one of these entertaining drinks. If you cannot wait until your next trip to the Summit Resort to try these delicious beverages, quench your thirst and treat your sweet tooth by making these flavorful drinks at home:
Blue Lagoon
Ingredients:   •  5oz blue mixed berry punch • 5oz lemon-lime soda • Assorted gummy fish
How to make it:  Fill drinkware ½ full with ice. Add the mixed berry punch and lemon-lime soda. Top off with assorted gummy fish and decorate with a tropical umbrella and a crazy straw.
Strawberry Patch
Ingredients:   •  Strawberry syrup • 10oz strawberry lemonade • Sour fruit gummies
How to make it:  Drizzle inside of drinkware with strawberry syrup and fill ½ full with ice cubes.  Pour the strawberry lemonade and add sour fruit gummies. Serve with a crazy straw and tropical umbrella.