02 Feb

Wine Tasting New Hampshire
If you are a lover of wine then the NH Lakes Region is the perfect destination for you. Here in the Lakes Region we are in close proximity to a variety of local New Hampshire wineries and we have created the perfect wine tasting tour for your stay in the area. Start your day off with breakfast at either of our hotels and follow this guide to each winery listed below. Head out for a day of fun and let us know what your favorites are.
Hermit Woods Winery:
Start your tour off at Hermit Woods Winery located in the heart of Meredith, NH. Wine tasting is available anytime they are open which is, Sunday through Thursday 11am to 6pm & Friday and Saturday 11am-7pm. Wine tastings are $8 per person and includes your choice of six selections, you also get to take home a souvenir tasting glass. If you want a little more education on the winery they offer full tours for $20 per person and it includes a 30-minute tour of the facilities along with a tasting. Tours are offered every Saturday and Sunday from 12-5. Hermit Woods has recently opened a deli adjacent to their tasting bar where you can order a glass of wine and select food items including charcuterie plates and panini's. Our hotel, the Center Harbor Inn has partnered with the winery to bring you some amazing fall Wine Packages, so check it out here. And visit the Hermit Woods website for more information on their wines and tours here.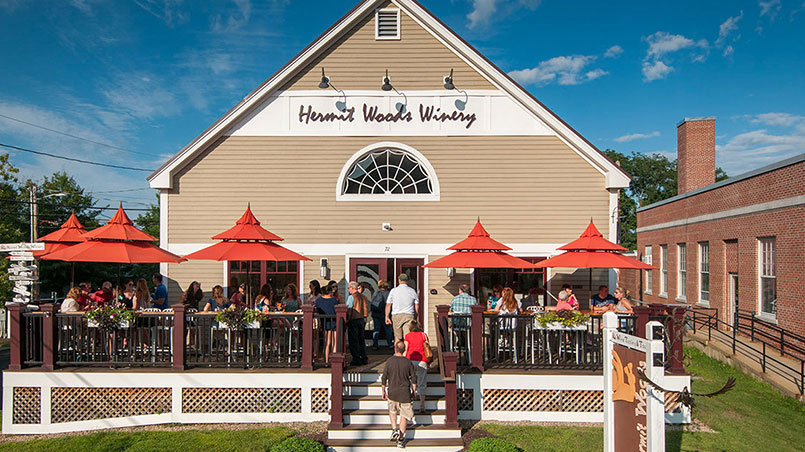 Winnipesaukee Winery: 
Previously the Newfound Lake Vineyards, the Winnipesaukee Winery moved to their location in Wolfeboro On August 12th. Located inside a large barn, the winery offers tastings alongside antiques for sale. Tastings are $7 per person and you get to keep a souvenir glass from the experience. If you participate in a tasting you get $2 off of a bottle of wine of your choice. Tasting room hours are Saturday & Sunday 12pm-5pm. For more information check out their website here.
Sap House Meadery:
Okay, so by definition Mead isn't quite a wine, but it's definitely worth a visit. Located in Center Ossipee, the Sap House Meadery is New Hampshire's First Mead Pub. Featuring tours, tastings, and a pub that offers specialty cocktail drinks made with their product, you could spend an entire afternoon here alone if you wanted to. Tastings are available whenever they are open and it is free to sample their signature meads, you can purchase an extra 4 tastings for $7 or $2 each. Tours are available only on Saturdays at 12pm for $10 per person and reservations are strongly encouraged. The hour-long tour takes you behind the scenes on an in-depth experience through how the mead is made. To check out their menu and more information on tours and tastings visit their website here.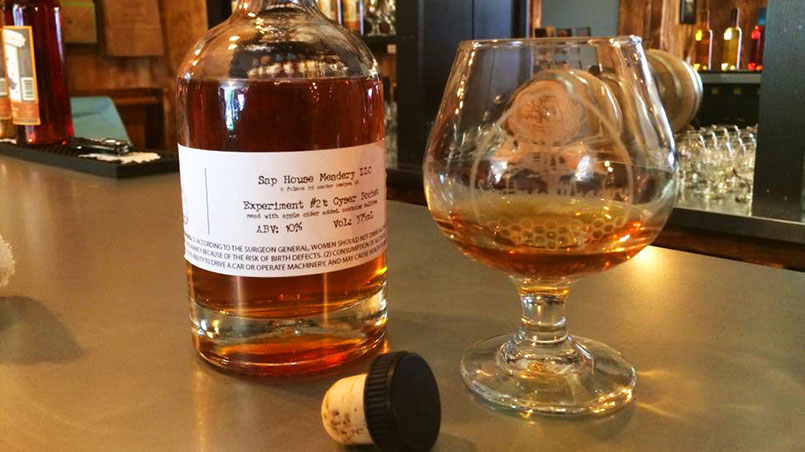 Haunting Whisper:
Located in Danbury, NH, Haunting Whisper is both a Winery and Distillery. Their wines include reds, whites and fruits. For spirits, they offer rum and brandy but plan to add whiskey and moonshine in the near future. The vineyard is located on a family owned 75-acre property with beautiful views of the mountains and lakes. If you are up for a hike this place is great to hit up on the way either in or out of hiking Mount Cardigan. Cardigan had a fire many years back and the entire top of the mountain is treeless granite which makes for amazing views. The winery is open in May-November, Wednesday through Sunday from 12pm to 5 pm, and in December Saturdays & Sundays from 12pm-5pm. Check out their website here for more information on their wines and spirits.
Whippletree Winery:
The Whippletree Winery located deep in the woods of Tamworth, NH craft their award-winning wines in a traditional way. They make a variety of wines from whites and reds, imports and fruits, to a few specialty selections. Their tasting room hours run from Friday through Sunday 12pm-6pm. It is strongly encouraged to visit by appointment, so check out their website here for contact information and a wine list.