22 Jun

The Pond At Steele Hill Resort

One of the many things New Hampshire's Lakes Region is known for is the abundance of nature and wildlife in the area. Whether visitors are planning a hike up one of the local mountains, boating on the various exciting lakes or enjoying a daily outing at a natural attraction, the breath of fresh air the region has in store for guests is like no other.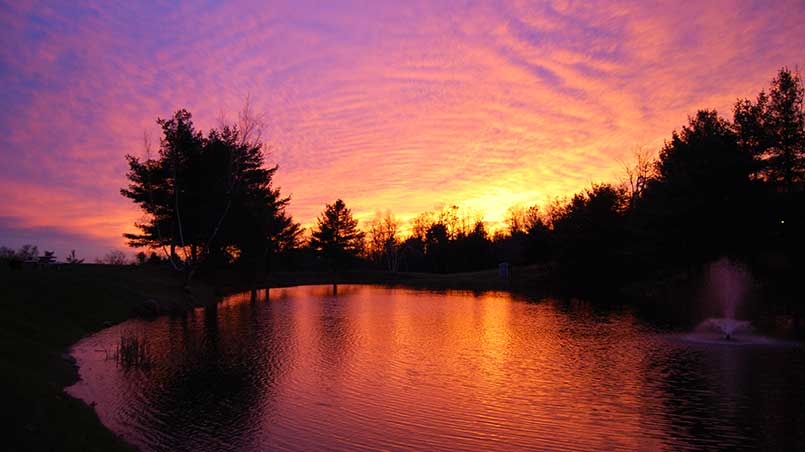 Many visitors who enjoy nature feel at home lodging at Steele Hill Resort. Located in the heart of the Lakes Region, the property is rich in natural beauty.  Surrounded by miles of forests and overlooking the region's many lakes and mountains, Steele Hill offers a one-of-a-kind vantage point and experience for resort guests. Some of the more unique and memorable vacation experiences take place at the resort's 330-foot long fishing pond. The onsite pond is stocked annually with rainbow trout and is a great spot for anglers of all experience levels. Many visitors have memories of casting their lines for the first time in the popular catch and release pond. Fishing isn't the only activity guests enjoy taking part in at the pond, it is also a great spot to catch frogs and crawfish as well as view other native wildlife. On warmer days, painted turtles can be observed sunbathing on the rocks along the pond's edges, ducks, blue herons and geese can be seen wading looking for their next meal and be sure to keep an eye out along the pond's tree line for the resident groundhog who enjoys making an appearance.
The winter months are just as exciting at Steele Hill Resort's pond, for when the ice covers the water, the area converts to a winter wonderland. There are multiple guest activities including pick up pond hockey games, figure skating and a chance to warm up and enjoy s'mores on the hillside overlooking the beautiful view of the pond and distinctive West Amenities building. There is no question as to why nature lovers prefer vacationing at Steele Hill Resort in the Lakes Region.