06 May

Path Resorts Gift Cards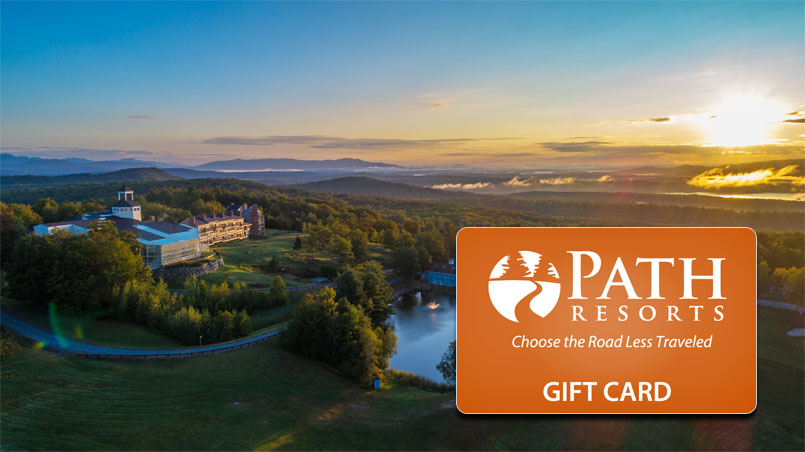 Path Resorts has always provided a respite from ordinary life and an escape from the day to day grind. Our unique properties specialize in fresh air and bringing guests one step closer to nature. In these trying times, the pandemic has forced people into confined spaces hoping for the day when they could get outside and take the first steps back toward normal. It has been difficult to watch these once bustling resorts temporarily shutter as a measure to do our part to help flatten the curve. With the light gently shining towards a potential reopening in the near future, Path Resorts is rolling out an option to save big on future stays, provide your loved ones with the much needed gift of relaxation and help support some of the best employees in New Hampshire's hospitality industry.
For a limited time we are offering 25% off Path Resorts' gift cards to help take away some of the stress caused by the coronavirus pandemic. From mountain-top adventures to lakeside retreats, our gift cards offer you a variety of options across all the Path Resorts' properties. Cards are valid for room rentals at Steele Hill Resort, the Summit Resort and the Center Harbor Inn. Values can also be redeemed dining at Steele Hill's Hilltop Restaurant, Tova's tavern or the Oasis Pool Bar. Additional valid locations include Steele Hill's Market Convenience Store, the Summit Convenience Store and poolside bar, the Center Harbor Inn's merchandise selection and our new online Path Resorts Marketplace. Gift cards never expire and are the perfect option for an essential worker, those struggling with the challenges of the pandemic or a nice way to treat yourself during these difficult times.
By purchasing one of our gift cards, you are not only saving money on a future vacation with us, you are also supporting a generational family owned business with local employees. We truly believe there is no better place to experience a vacation than right here in the Lakes Region of New Hampshire. Whether you are waking up to a beautiful sunrise behind the backdrop of lakes and mountains or you are unwinding on your lakeside balcony watching the boats pass by, experiencing a fun yet relaxing New Hampshire getaway is just what you need to defuse the stresses of the Coronavirus Pandemic. To learn more or to purchase a Path Resorts gift card, click here.